We've spent a lot of time here at KIS contemplating who will finish first in the ever-accelerating race to full autonomy. Unfortunately there isn't a lot of evidence to go on. These nascent technological innovations are always covered in secrecy, attempting to keep anything useful away from the prying eyes of the competition.
Perhaps the best source available to the public for gauging progress is the yearly Californian DMV disengagement reports. The Californian DMV requires licensed companies to report all disengagements (human intervention of computer failure) of autonomous test vehicles on public roads, as well as the miles driven by those vehicles.
There are some issues with drawing too many conclusions from this data. For one, the level of testing varies greatly between competing companies – Tesla for example have recorded zero test hours on Californian roads – and some companies conduct testing in other geographies. Yet the results do give some indication of comparative performance, and there have been some clear standout performers.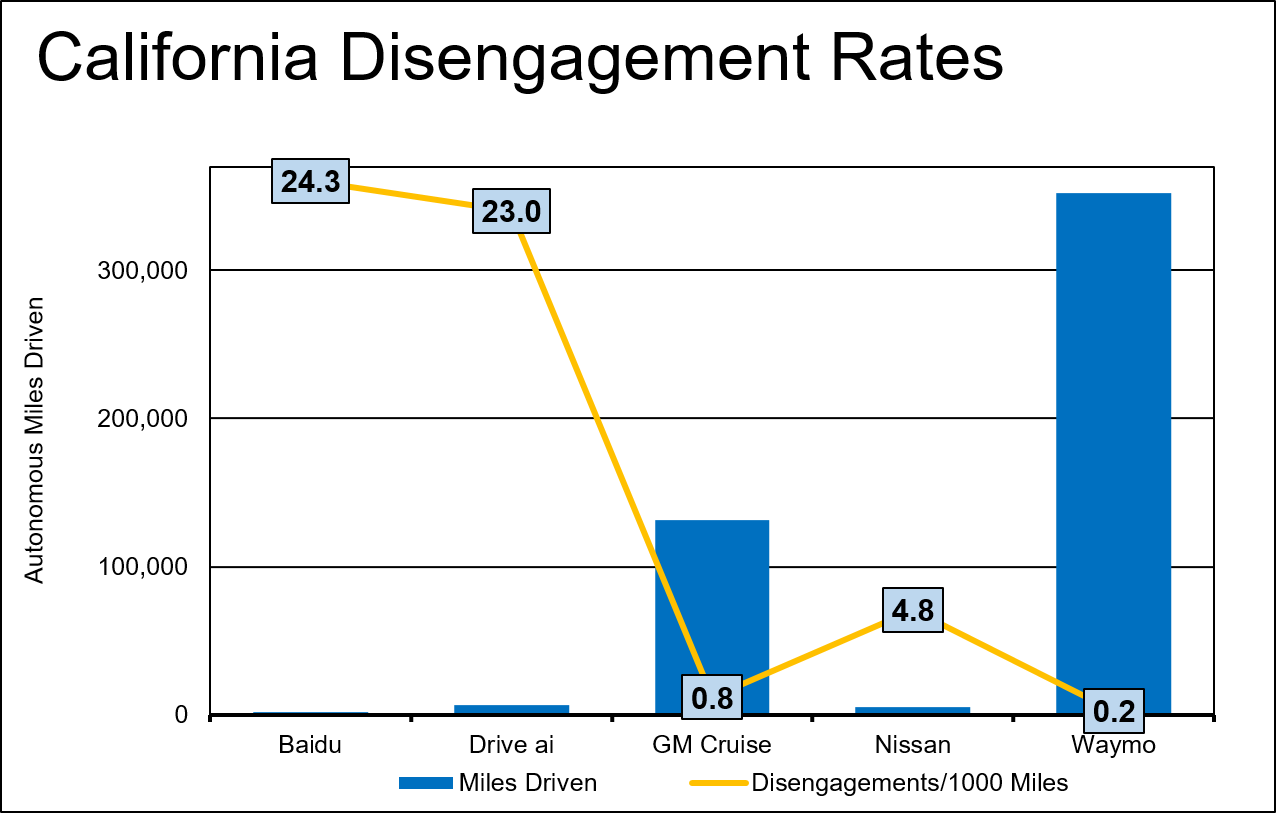 Both Waymo and GM Cruise appear to be leagues ahead of the competition, both in terms of autonomous miles driven, as well as disengagements per 1,000 miles. Waymo in particular boasts very impressive stats with just 0.2 disengagements per 1,000 miles during over 350,000 miles of testing! Indeed, Waymo recently announced that it will launch its driverless ride-hailing service in Phoenix by the end of this year.
Even with this progress it is clear that the gap between Waymo and GM Cruise has narrowed. So if there are two competing autonomous services on the market, how do you determine who, if any, will end up being profitable? As we've discussed previously, one need look no further than consumer airliners to see a novel transport technology provide poor returns to investors. Unless there is a gap in technological innovation, it can be extremely hard for a company to build any sustainable competitive advantage, and thus poor returns on capital ensue.
For this reason, the company that catches our eye in the chart above is not the Google-owned Waymo, but rather its Chinese search engine contemporary, Baidu. At least based on the above data, Baidu's autonomous driving program Apollo would appear to be well behind on the technology curve. However, this would not be the first time that Baidu has lagged Google on the technology front. Google's search engine was undoubtedly the superior offering in mid-2000s. For at least a little while, this was reflected in Google China's dominance over Baidu. However, the period of success was short-lived, as a variety of clashes with the government, including an alleged government hacking, became too much for the company.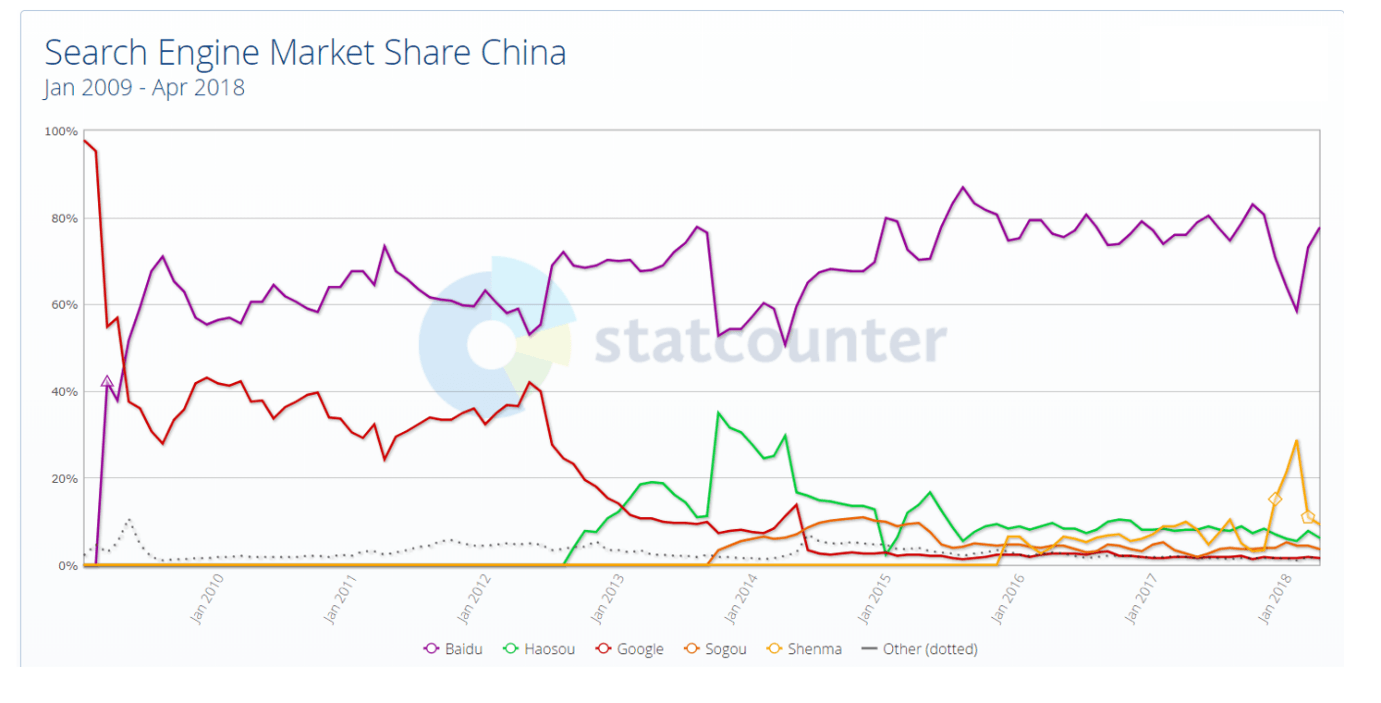 Whilst a lot has changed in China in the last ten years, we expect Google and Baidu's history to repeat itself. If the Chinese government do prefer a local provider for its autonomous cars program, then Baidu is uniquely placed to compete, with its sustainable competitive advantage provided not by any technological gap, but rather regulatory barriers. Supporting this theory, Baidu was recently selected as the ridesharing provider for the Xiongan New Area, China's newest smart city. This adds to an ever-expanding list of Chinese cities that have licensed the Apollo program. The upside is obviously enormous.
Baidu's investment merits warrant some individual analysis. Over the last fifteen years, the company's core Search Services business has reported stellar results. This has, however, been somewhat masked by its two non-core operating segments: Transaction Services (contains a variety of businesses) and its video streaming service iQIYI.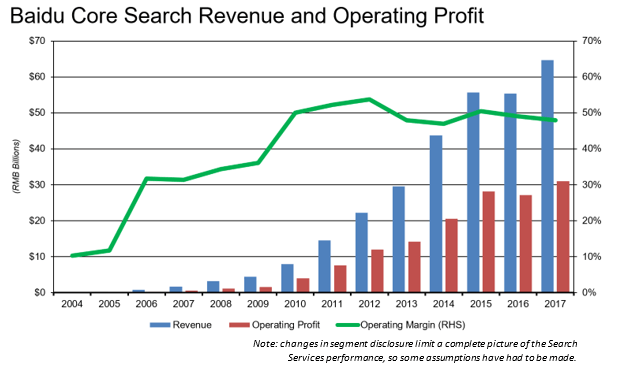 Baidu has recently taken steps to improve its capital allocation with the "de-emphasising" of its Transaction Services business and the decision to IPO iQIYI (Baidu still own 58.8%).
In 2016, Baidu's Transaction Services business was losing RMB12.4bn (disclosure of this segment has since been halted). If we make the assumption that this segment is worth at least any future losses it generates (i.e. a zero valuation rather than a negative one), then Baidu's core Search Services business trades on c.13.5x our forward EV/EBIT estimate.
Essentially, you are paying approximately a market multiple for a business that, in spite of the occasional short-term hiccup, has long-term prospects that far exceed those of the market's. Any success in the Apollo autonomous car program offers significant optionality upside to this equation.
Another point worthy of consideration is the upcoming Chinese Depository Receipts (CDR) pilot program. This program would involve financial institutions packaging shares of Chinese companies listed in overseas markets, and making them available for purchase by locals in China. Baidu and Alibaba are both favourites for the pilot program. Given the strong brand strength of Baidu in China, and its attractive valuation relative to the listed Chinese tech sector, we expect CDRs to provide a strong catalyst for a multiple rerating.